CULTURE: RENÉ DESCARTES, METAPHYSICS CONSCIOUSNESS AND GOD
La interpretación que las modernas Escuelas de Pensamiento de hoy, le dan a los postulados de Renato Descartes sobre Metafísica, Conciencia, Verdad y Dios es que son reconocidas en campos tan variados como los de la filosofía moderna y la geometría analítica, por lo que se suele ubicar en el mismo escalón que otros destacados intelectuales de todos los tiempos.
The interpretation that the modern Schools of Thought of today, give to the postulates of Renato Descartes on Metaphysics, Consciousness, Truth and God is that they are recognized in fields as varied as those of modern philosophy and analytical geometry, therefore, he is usually placed on the same level as other outstanding intellectuals of all time.
René Descartes nació el 31 de marzo de 1596 en una localidad llamada La Haye -que después decidieron rebautizarlo con su nombre- y falleció el 11 de febrero de 1650. René Descartes, considerado el padre de la geométrica analítica y la filosofía moderna, quien sentó las bases para el racionalismo y aportó sus conocimientos al avance de ciencia y las matemáticas. René Descartes was born on March 31, 1596 in a town called La Haye – which they later decided to rename after him – and died on February 11, 1650. René Descartes, considered the father of analytical geometry and modern philosophy, who laid the foundations for rationalism and contributed his knowledge to the advancement of science and mathematics.
Ingresó en el Colegio de los Jesuitas en La Fleche, institución de la que después hablaría con sentimientos encontrados: –Los Jesuitas no me enseñaron nada. Ahora voy a buscar la verdad en el Gran Mundo y en el libro de la naturaleza– dijo en su juventud y así lo hizo. Cuando decidió crear una nueva ciencia, capaz de unificar todas las ramas del conocimiento, a partir de un principio básico, plasmado en ese Discurso del Método (1637) para bien dirigir la razón y buscar la verdad en las ciencias, que no es más que un sincretismo, una especie de síntesis de los principios filosóficos elaborados hasta entonces, es decir su sueño de la Ciencia Universal que debería conducir al hombre a la perfección.
He entered the Jesuit College at La Fleche, institution of which he would later speak with mixed feelings: -The Jesuits did not teach me anything. Now I am going to look for the truth in the Great World and in the book of nature- he said in his youth and so he did. When he decided to create a new science, capable of unifying all branches of knowledge, starting from a basic principle, embodied in that Discourse on Method (1637) in order to direct reason and seek truth in the sciences, which is nothing more than a syncretism, a kind of synthesis of the philosophical principles elaborated until then, that is, his dream of Universal Science that should lead man to perfection.
Descartes dejó en claro un método de cuatro reglas para ir en busca del saber verdadero de todo cuanto se pretendía conocer: evidencia, análisis, síntesis y recapitulación. Escrito con el que él filósofo puso en discusión todo lo establecido, dando espacio a la duda y a la razón. "Estoy seguro al menos de que existo y de que existo como algo que piensa. Esto que soy no es el cuerpo, sino una sustancia cuya esencia consiste en pensar", señaló Descartes.
Descartes made clear a four-rule method to go in search of the true knowledge of everything that was claimed to be known: evidence, analysis, synthesis and recapitulation. Writing with which the philosopher put everything established into discussion, giving space to doubt and reason. "I am sure at least that I exist and that I exist as something that thinks. This that I am is not the body, but a substance whose essence consists in thinking", Descartes pointed out.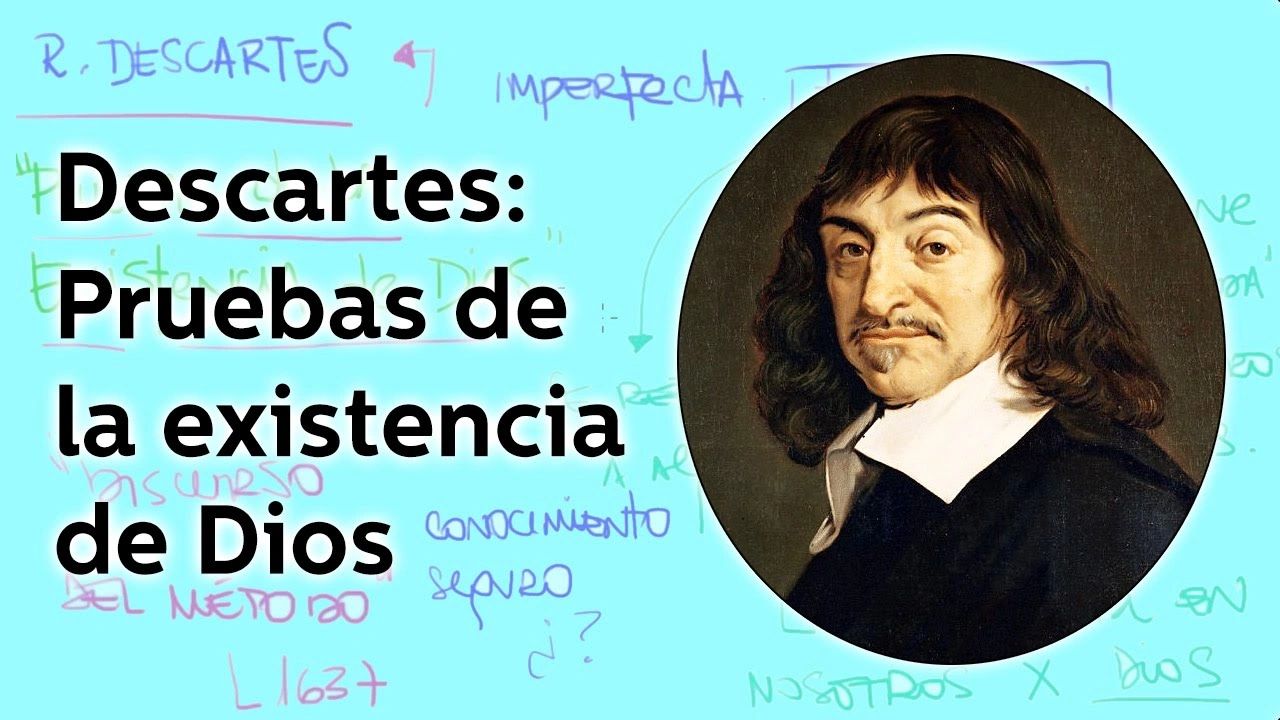 Con este razonamiento, demostró que dudar es también un modo de pensar, y pensar es una prueba de la propia existencia. De allí su más famosa frase: "Ego cogito ergo sum" (Pienso luego existo). Aunque en realidad la frase dicha por Descartes fue ¨Je pense, donc je suis¨ traducido al latín como ¨ Ego cogito ergo sum ¨ que a su vez traducida al castellano es: ¨pienso, luego existo¨ que incluyó en el Discurso del método (1637) y en Principios de la Filosofía (1644), y es probablemente lo primero que se nos viene a la cabeza cuando pensamos en Descartes. Y para lograr este razonamiento se debe partir de la denominada Duda Metódica.
With this reasoning, he showed that doubting is also a way of thinking, and thinking is proof of one's own existence. Hence his most famous phrase: "Ego cogito ergo sum" (I think therefore I am). Although in reality the phrase said by Descartes was ¨Je pense, donc je suis¨ translated into Latin as ¨Ego cogito ergo sum¨ which in turn translated into Spanish is: ¨I think, therefore I exist which he included in the Discourse on Method (1637) and Principles of Philosophy (1644), and is probably the first thing that comes to mind when we think of Descartes. And to achieve this reasoning, one must start from the so-called Methodical Doubt.
Sostiene Descartes que uno de los principios básicos para conseguir la perfección es evitar las ideas falsas y la única forma de lograrlo es «atacándolas y destruyéndolas», cueste lo que cueste y una de esas «ideas falsas» es la producida por el «engaño de los sentidos», que es el fundamento, la base de diversas sociedades esotéricas de hoy.
Descartes maintains that one of the basic principles to achieve perfection is to avoid false ideas and the only way to achieve this is «attacking and destroying them», at all costs and one of those «false ideas» is the one produced by the «deception of the senses», which is the foundation, the basis of various esoteric societies today.
No es fácil de entender y desde luego mucho menos de explicar. En esta su Segunda Meditación, el filósofo manifiesta que está convencido de que no existe mundo, cielo, tierra, mente o cuerpo, pero como sí sabe de su existencia, como sabe que está consciente de que existe, pues se ve, siente, se palpa y vive, y de que hay algo en su interior que le anima. Este es el fundamento de muchas de las llamadas Escuelas de Pensamiento o Escuelas Esotéricas, la base de todo es la Consciencia: «Tener presente a todo momento que existes, que estás en el Aquí y Ahora, evita que el Engañador -a quien hoy muchos llaman Ego- te confunda de manera deliberada y contundente llevándote al mundo de los sueños, de las fantasías y de los deseos, lo que te induce ideas falas, irreales, y te impide razonar».
It is not easy to understand and certainly much less to explain, In this his Second Meditation, the philosopher states that he is convinced that there is no world, heaven, earth, mind or body, but since he does know of its existence, as he knows that he is aware that it exists, because he sees, feels, feels he touches and lives, and that there is something inside him that animates him. This is the foundation of many of the so-called Schools of Thought or Esoteric Schools, the basis of everything is Consciousness: «Keep in mind at all times that you exist, that you are in the Here and Now, prevents the Deceiver -whom many today call Ego- from deliberately and forcefully confusing you, taking you to the world of dreams, fantasies and desires. , which induces you false, unreal ideas, and prevents you from reasoning».
¿Y entonces, dónde entra Dios en la Filosofía Cartesiana? Esto es lo que opinan quienes militan en algunas escuelas esotéricas:
And then, where does God enter the Cartesian Philosophy? This is what those who are active in some esoteric schools think:
En su Primera Meditación en el Discurso del Método, Descartes da a entender que Dios es la Energía Suprema, la Verdad, La Consciencia que cada hombre la lleva dentro de sí.
In his First Meditation in the Discourse on Method, Descartes implies that God is the Supreme Energy, the Truth, the Consciousness that each man carries within himself.
Eso que se ha dado en llamar hoy el Yo Interno, es lo que cada uno tiene de Dios, dado que fuimos hechos a su «Imagen y Semejanza» y por eso «Él está en todas Partes y ve todo lo que hacemos».
That which has been called today the Inner Self, is what each one has of God, since we were made in his «Image and Likeness» and therefore «He is everywhere and sees everything we do».
Rosacruces, Mormones, Masones y muchas otras Escuelas Filosóficas basan sus enseñanzas en este principio de que lo único real es Dios que, como se dijo antes, está representado en la Consciencia de que Estoy en el Aquí y el Ahora, de que Pienso Luego Existo y por ende, en el Yo Interior.
Rosicrucians, Mormons, Masons and many other Philosophical Schools base their teachings on this principle that the only real thing is God who, as said before, is represented in the Consciousness that I am in the Here and Now, that I think therefore I am. and therefore, in the Inner Self.
Al respecto, Descartes puntualiza que si nosotros somos seres imperfectos, pero en nuestro interior tenemos la idea de un ser perfecto, alguien inculcó en el hombre ese sentimiento y ese alguien es Dios , que se muestra a través del llamado Estado Consciente. Y hace claridad sobre lo dicho de manera previa. Son necesarios largos ejercicios para una materia que no es fácil de entender u menos explicar..
In this regard, Descartes points out that if we are imperfect beings, but inside us we have the idea of ​​a perfect being, someone instilled that feeling in man and that someone is God, who shows himself through the so-called Conscious State. And it makes clear what was previously said. Long exercises are necessary for a subject that is not easy to understand or explain.
–Confieso que son necesarios largos ejercicios y una meditación constante para habituarse a ver las cosas desde este punto de vista. En este caso, creo yo, que consiste el secreto de los filósofos que supieron sustraerse al imperio de la fortuna y que a pesar de pobreza y dolores, llegaron a ser completamente felices. Considerando constantemente la limitación impuesta a nuestra débil naturaleza, se persuadieron de que dulcemente nuestros pensamientos estaban dentro del poder de nuestras mezquinas facultades y por consiguiente, que ninguna afección debían inspirarnos las cosas puesto que nada era nuestro– Dijo textualmente el filósofo.
-I confess that long exercises and constant meditation are necessary to get used to seeing things from this point of view. In this case, I believe, which is the secret of the philosophers who knew how to escape the empire of fortune and who, despite poverty and pain, became completely happy. Constantly considering the limitation imposed on our feeble nature, they sweetly persuaded themselves that our thoughts were within the power of our petty faculties, and therefore that no affection should inspire us with things, since nothing was ours- The philosopher literally said.
Al final, Descartes donó una gran parte de sus enseñanzas y conocimientos escritos, a la Orden Rosacruz, sin que pudiera decirse a cabalidad que fue miembro de ella, pues era -como se sabe- el «Filósofo Enmascarado»- que ocultaba casi todo lo que pensaba. Los Rosacruces lo consideran como «propio» de su gran logia.
In the end, Descartes donated a large part of his teachings and written knowledge to the Rosicrucian Order, without being able to fully say that he was a member of it, since he was -as is known- the «Masked Philosopher» – who hid almost everything that I though. The Rosicrucians regard it as «proper» to their grand lodge.
En resumen sus aportaciones que hasta hoy dia se mantienen son:
In summary, his contributions that remain to this day are:
Filosofía natural, Descartes es fundacional para la filosofía moderna, porque sienta muchas de sus bases y supuestos sobre los que se desarrolla. Habla sobre la libertad absoluta del acto de creación. Su concepción de un dualismo, una división entre el alma y el cuerpo, rompiendo esquemas que por tantos siglos dominaron las sociedades occidentales además de proponer a sus iguales el trazarse metas cercanas a la realidad. Así como que el hombre debe adaptarse a las condiciones que provee el entorno como primer paso para generar condiciones de vida e investigación mínimas sobre ese ámbito. Natural philosophy, Descartes is foundational for modern philosophy, because he lays down many of its foundations and assumptions on which it develops. He talks about the absolute freedom of the act of creation. His conception of a dualism, a division between the soul and the body, breaking schemes that for so many centuries dominated Western societies as well as proposing to their peers the setting of goals close to reality. As well as that man must adapt to the conditions provided by the environment as a first step to generate living conditions and minimal research on that area.
Pienso luego existo, planteando Descartes que para poder llegar a la conclusión de algo es indispensable pensar y reflexionar sobre el hecho en cuestión. I think therefore I am, Descartes posing that in order to reach the conclusion of something it is essential to think and reflect on the fact in question.
Ideas y dudas, como los psicólogos de la época, el filósofo empieza a preguntarse sobre el comportamiento humano concluyendo con que muchas de nuestras conductas están predeterminadas, a partir de las experiencias que tenemos a lo largo de nuestra existencia. Asimismo, duda sobre el camino que se toma para descubrir las cosas sosteniendo que debemos desconfiar de nuestros sentidos activos como también cuando estamos soñando. Ideas and doubts, like the psychologists of the time, the philosopher begins to wonder about human behavior, concluding that many of our behaviors are predetermined, based on the experiences we have throughout our existence. Likewise, he doubts about the path that is taken to discover things, maintaining that we should distrust our active senses as well as when we are dreaming.
Padre de la geometría analítica, disciplina que proyectó como un punto de encuentro definitivo entre el álgebra y la geometría. Father of analytic geometry, a discipline that he projected as a definitive meeting point between algebra and geometry.
FRASES FAMOSAS DE DESCARTES / FAMOUS PHRASES OF DESCARTES
Conducir con orden mis pensamientos, empezando por los objetos más simples y más fáciles de conocer, para ascender poco a poco, gradualmente, hasta el conocimiento de los más complejos, y suponiendo incluso un orden entre ellos que no se parecen naturalmente unos a otros Conduct my thoughts in order, beginning with the simplest and easiest objects to know, gradually ascending little by little, to the knowledge of the most complex ones, and even assuming an order among them that do not naturally resemble each other
"Vivir sin filosofar es, propiamente, tener los ojos cerrados sin tratar de abrirlos jamás". «To live without philosophizing is, properly speaking, to have your eyes closed without ever trying to open them.»
Pienso y dudo, luego existo. I think and doubt, therefore I am.
Para investigar la verdad es preciso dudar, en cuanto sea posible, de todas las cosas. To investigate the truth it is necessary to doubt, as far as possible, everything.
Despréndete de todas las impresiones de los sentidos y de la imaginación y no te fíes sino de la razón. Get rid of all the impressions of the senses and the imagination and trust only reason.
Mi único deseo es conocer el mundo y las comedias que en él se representan. My only desire is to know the world and the comedies that are represented in it.
Todo lo complejo puede dividirse en partes simples. Anything complex can be broken down into simple parts.
Apenas hay algo dicho por uno cuyo opuesto no sea afirmado. There is hardly anything said by one whose opposite is not affirmed
No hay nada tan extraño y tan increíble que no haya sido dicho por un filósofo a otro. There is nothing so strange and incredible that has not been said by one philosopher to another.
Los malos libros provocan malas costumbres y las malas costumbres provocan buenos libros. Bad books cause bad habits and bad habits cause good books.
Las matemáticas son el instrumento de conocimiento más potente. Mathematics is the most powerful instrument of knowledge.
Mejor que buscar la verdad sin método es no pensar nunca en ella, porque los estudios desordenados y las meditaciones oscuras turban las luces naturales de la razón y ciegan la inteligencia. Better than seeking the truth without method is never to think about it, because disordered studies and obscure meditations disturb the natural lights of reason and blind the intelligence.
Dos cosas contribuyen a avanzar: ir más deprisa que los otros, o ir por el buen camino. Two things contribute to progress: go faster than others, or go the right way
Un estado es mejor gobernado si tiene pocas leyes y esas leyes son minuciosamente observadas. A state is better governed if it has few laws and those laws are carefully observed.
En mi humilde opinión, todas las cosas de este mundo ocurren matemáticamente. IMHO, all things in this world happen mathematically.
Para investigar la verdad es preciso dudar, en cuanto sea posible, de todas las cosas. To investigate the truth it is necessary to doubt, as far as possible, all things
No basta con tener buen ingenio, lo principal es aplicarlo bien. It is not enough to have good ingenuity, the main thing is to apply it well.
Cada vez que me han ofendido, trato de elevar mi alma tan alto que el delito no pueda alcanzarme. Every time I have been offended, I try to lift my soul so high that the offense cannot reach me.
He cometido todos los errores que se podían cometer y sin embargo nunca he dejado de esforzarme. I have made all the mistakes that could be made and yet I have never stopped trying.
Es contrario a la razón decir que hay un lugar de vacío en el que nada existe. It is contrary to reason to say that there is a place of emptiness in which nothing exists.
La razón y el juicio es la única cosa que nos hace hombres y nos distingue de los animales. Reason and judgment is the only thing that makes us men and distinguishes us from animals
Sería absurdo que nosotros, cosas finitas, tratáramos de determinar las cosas infinitas. It would be absurd for us finite things to try to determine infinite things.
La matemática es la ciencia del orden y la medida, de bellas cadenas de razonamientos, todos sencillos y fáciles. Mathematics is the science of order and measure, of beautiful chains of reasoning, all simple and easy.
La lectura es una conversación con los hombres más ilustres de los siglos pasados. Reading is a conversation with the most illustrious men of past centuries.
Hasta una falsa alegría suele ser preferible a una verdadera tristeza. Even a false happiness is usually preferable to a true sadness
Si no está en nuestro poder el discernir las mejores opiniones, debemos seguir las más probables. If it is not in our power to discern the best opinions, we must follow the most likely.
Es mejor no partir tras una gran búsqueda de la verdad, pues eso solo nos hace sentir miserables. It is better not to go after a great search for the truth, because that only makes us feel miserable.
No hay nada repartido de modo más equitativo en el mundo que la razón: todo el mundo está convencido de tener suficiente. There is nothing more equally distributed in the world than reason: everyone is convinced that they have enough
Para mejorar nuestro conocimiento debemos aprender menos y contemplar más. To improve our knowledge we must learn less and contemplate more.